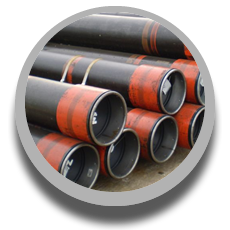 The light-alloy casing (LAC) is reasonable to be used in the operating wells with aggressive formation fluid with high hydrogen sulphide and carbon dioxide where the standard steel pipes cannot use utilized, however, the imported pipes of special steel grades require greater costs to be incurred for purchasing such pipes.
TECHNICAL CHARACTERISTICS OF LIGHT-ALLOY PIPES
Nominal geometrical and weight parameters

Light-Alloy Casing 178х14

Pipe length, mm

9600

Wall thickness of main pipe body, mm

14

Pipe diameter, mm

outside diameter


internal diameter


tip diameter

178

150

195

Type of thread

OTTG-178

Pipe weight in air, kg

208

(Limited) Tensile load, kN

2854

(Limited) internal excessive pressure, MPa

66

(Limited) external collapse pressure, MPa

54
Notes
The above parameters are given for reference.

The parameters are calculated on the basis of the minimal yield strength of the aluminum alloy for the main section of the pipe body.

Upon customer request, the pipes can be manufactured with other typical sizes and modified geometrical parameters and threads.